West Cappadocia (Green Tour)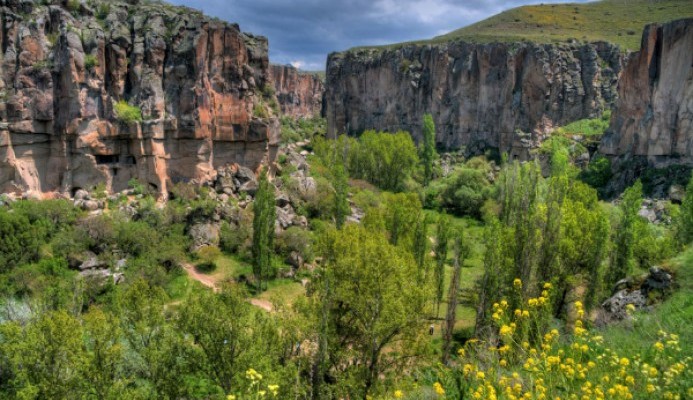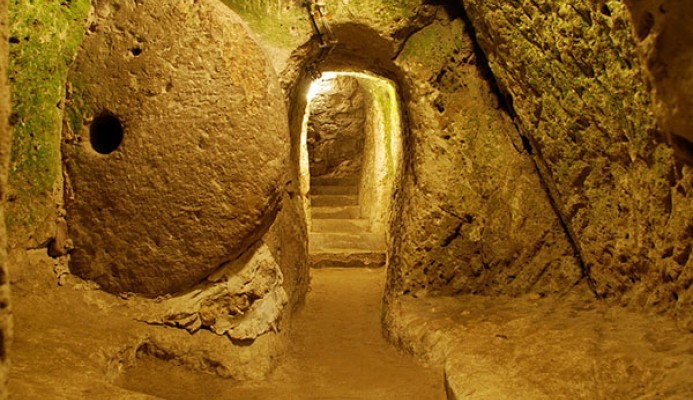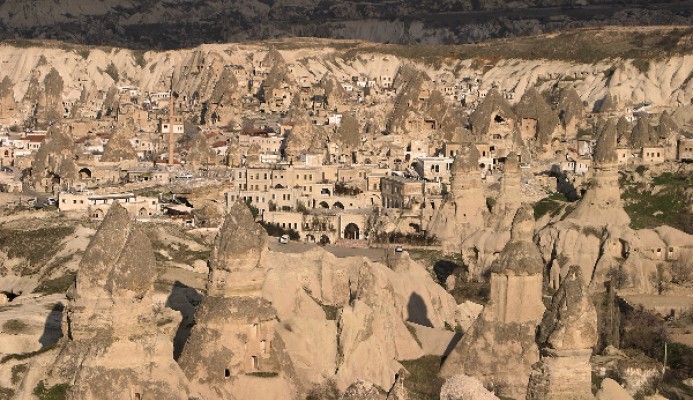 Price: 33 euros (as of January 2019) (private 60 euros)
Time: 9:30 am – 6 pm (available every day, year round)
Attractions: Derinkuyu Underground City, Ihlara Valley hike, Selime Monastery
Photo Opps: Pigeon Valley, Göreme Panorama
Shopping: Onyx Jewelry Factory, Many tourist stalls at each stop (no obligation to buy anything anywhere)
Price includes: Transportation, Tour Guide, Lunch, Entry Fees
Price does not include: Souvenirs, Snacks, Drinks at lunch
Hidden costs: None



WHAT I LOVE MOST ABOUT THIS TOUR
Living here I did not need to go, but I wanted to know if I could recommend the Cappadocia Green Tour to people so when a visiting friend wanted to go, I jumped at the chance.

Often in tourism situations the system is set up to gouge the ignorant tourist. However, in this case I am happy to report that everybody wins.

You could not do this tour on your own for the advertised price; the guide alone would cost more than the whole tour. The companies are not competing here. There is one Green Tour and everyone who signs up goes on that tour. Once they get 15 people they start another van. The tourist saves money, the companies make money; a real win-win. This is also true for the Red Tour which covers a different part of Cappadocia.
MY EXPERIENCE
The 16-seat van picked us up at the hotel around 9:30. We went around Göreme stopping at a few hotels to fill up the van. Finally the tour guide hopped on, and we set off close to 10am.

Our tour guide was a year out of the tourism faculty of Nevşehir University. She was energetic and knowledgeable but her English accent was sometimes difficult to understand; the result of learning English from non-native English speakers. Regardless, I understood most of what she said. (I am not judging here as her English is much better than my Turkish. My purpose is to prepare you for what you may encounter.)

Our group consisted of me and my British friend, two Asian-American women, six Koreans, a young couple from Australia, a Filipino photographer living in Dubai, and two other people whose country of origin I cannot remember.

15 was a good number in that we did not have to strain to hear the guide. At the same time we had the opportunity to meet a few new people from all over the world.



DERINKUYU UNDERGROUND CITY
The first stop was 35 minutes away in Derinkuyu for the underground city. Our guide took time on the trip down to explain some of the history of Cappadocia, asked everyone their names and countries of origin, and prepared us for what to expect in Derinkuyu.

She started at the ventilation shaft above ground and then took us into the climate controlled underground tunnels. Only 25% of the troglodytic city is open to the public and excavations are ongoing. What we saw went 8 stories underground and included a winery, a baptismal, meeting rooms, a church, a well, a grave, and a kitchen, but no toilets. Hmmm? Historians guess that up to 2000 people could have lived in the city at one time. The stank must have been excruciating!


The guess is that it was used only during invasions to hide from enemies and only for a couple of months at a time. The structure dates back thousands of years. Apparently, the Hittites used the first two floors for their animals. Over time the different local inhabitants dug deeper and deeper. They say that every house in the town has a basement that connects to the subterranean metropolis. The above ground invaders must have wondered if they had entered a ghost town or magical land with disappearing people! We wondered if we were going to encounter the Balrog around the next corner and kept listening for drums.

Given that Cappadocian winters are quite harsh (this region was once called the "Land of Snow"), wood is scarce, and the temperature undeground is steady throughout the year, I wonder if the locals used the underground areas in the winter as an easy way to stay warm?



IHLARA VALLEY HIKE
We had a few minutes to look around after returning to sunlight and then were off for the 30 minute ride to Ihlara Valley, a lush, green river canyon that is my family's favorite place in Cappadocia.

The valley is 14 km long, and we were dropped off at about the 3km point. After descending a couple of hundred stairs to the canyon floor, our guide showed us the Ağaçaltı cave church dating to the 4th century with paintings from the 10th century.


After that we freely followed the flat, winding path along the river surrounded by towering cliffs bejeweled with caves and echoing 1500 years of secrets.

3-4 kilometers later we stopped at a riverside restaurant for lunch which included soup, salad, and a choice between, trout, chicken, vegetarian, or meatballs. Most of the dishes were baked/broiled except for the grilled chicken and Adana şiş. Drinks were extra (a can of juice cost 4TL and a half-liter bottle of water was 1TL).



SELIME MONASTERY
Back in the van and 25 minutes later we arrived at the base of a pockmarked cliff towering over an old Greek village and some freaky cone-shaped rocks. Little could we have suspected what awaited us.

We ascended the steep lower section of the mount past the first couple of fairy chimney formations from whence our guide gave us the general layout of the monastery before turning us loose for half an hour to explore.

The monastery dates from the 8th-10th centuries and included a missionary school, a living area, and at least one church. Across the valley the opposite cliff housed a twin female monastery.


For the brave there are footholes carved in the rock leading all the way up the cliff. We were forbidden from attempting this route and nobody tested fate. We did not need to as the available complex was awe inspiring and kept us busy for the allotted time. Clearly the different rooms were all covered and connected at one point but are now partially exposed due to erosion and falling rocks. The rooms are massive with carved second floors and balcony levels. Our group walked around with exclamations of "Wow!", "Amazing!", "Can you believe this?", and "How did they do this?" regularly flowing off our tongues. The 30 foot ceilings were hard to explain.
PIGEON VALLEY PHOTO OPP
After descending back to the parking lot we began the hour long drive to Pigeon Valley during which everyone enjoyed a bouncy nap.


We were given 10 minutes to take pictures of the valley and Uçhısar rock tower/castle, feed the pigeons, look at the evil eye tree, and shop for more of the souvenirs we had seen at every other stand along the way.



ONYX JEWELRY FACTORY & DEMONSTRATION
Our guide gathered us again, and we crossed the street to the Onyx jewelry factory. We began with a demonstration of carving a piece of white onyx on a lathe into the shape of an egg. Afterwards we were free to tour the sales room and look at beautiful, overpriced jewelry.



GÖREME PANORAMA
10 minutes later we were at our last stop overlooking the town of Göreme. Honestly at this point everyone was ready to be done. The view is breathtaking making it clear why Göreme is unique in the world and the most popular place for overnight accomodation in Cappadocia.
HOME & SUMMARY
Down the hill, and we were back in Göreme being dropped off at the hotel. I looked at my watch and it read 5:53pm. My friend and I agreed that the tour could not have gone better; it included the perfect number of attractions, we never felt rushed or bored, and by the end we were ready to be done.

In short, I enthusiastically recommend this tour on your visit to Cappadocia. Add the Göreme Open Air Museum on the next day and a hot-air balloon ride, and you have seen the essentials of a Cappadocia visit.

Tour Inclusions

Lunch
Transport
Professional Guide
Entrance fees
Hotel pick-up/Drop-off
Tour Exclusions

Drinks
Tips and Gratuities